Kokopelli and the Mule
For the past while now I have wanted to do a long trail. I have been intrigued by some of the classic long trails of the US such as the PCT and the AT as well as the newer PNT (Pacific Northwest Trail).
With all of the trips I have planned out for this year, and working for a small tech startup I knew I wouldn't have time to do some 1000+ mile trail so I decided to look for something more bite sized that I could run in a weekend. When looking for a good shortish long route I kept stumbling across bikepacking websites and the Kokopelli trail caught my eye and stayed in my head. At 140+ Miles in length it was longer than anything I had run before and ran through many iconic dessert landscapes as well as Alpine areas connecting Fruita, CO to Moab.
I wanted to run the trail and I wanted to do it for the sake of doing it, taking a break in the evening to cook food, sleep under the stars and enjoy some good company. With the planned Itinerary calling for three 44 to 52 mile days in succession and not having many ultra running friends I thought that finding good company might be difficult. As the Kokopelli is a classic bike route I pinged my old college teammate Drew Casselberry to see if he would be interested as he is crazy good at mountain biking and just a nice all around guy.  He first thought I was a bit crazy to want to run 50ish miles a day but he had biked part of the route before and was game.
Day 0 -Preparation
Thursday morning before heading down to Moab I slept in, skipped my usual morning run and made pancakes for the kids. My eight year old son, True and 10 year old daughter, Lundi asked a few good questions about where I would be running and how many days it would take while my six year old seemed to be eating and thinking of Unicorns when she looked up at me and gave me and gave me some advice,
Dad, don't run out of water
At every water refill spot when internally debating how much to take I thought on her sage advice and filled myself up to the top which was 2.5 Liters of water.  The main logistical concern of doing the trail was water as we planned on doing the trail mostly unsupported carrying our gear and caching water along the route without any vehicle support till the end of day 2.  I guess to be more accurate I would be carrying water, Tailwind and a few other necessities but Drew would be carrying most all of our gear as he would be on a bike.  The map below shows the route that we took with a Blue marker indicating each of our water caches (Fisher Valley, Dewey Bridge, Rock Castle)  as well as where we camped (Westwater Ranger Station, Hideout Canyon).
Day 1- Señor
The first day we planned on riding from the trailhead just outside of Fruita to the Westwater Ranger Station which was two miles off of the trail but had potable water and a campground. A few weeks before the trip Drew's Dad decided to come along for the ride and was given the trail name of Señor.   It rained the night before heading out onto the trail and the projected high for the first day was only 63 degrees so we were able to get a more relaxed start on the day sleeping in till 7 at the hotel and starting on the trail at around 9 am.
After starting onto the trail and making it approximately 0.1 miles Señor was stepping onto his bike while carrying a backpack and the bike turned pointing off to the side of the trail so that by the time he was on his bike sitting he was heading straight down a drop off.  I watched his eyes grow three sizes larger that instant as he grabbed the brakes and started heading right over his handlebars.  He had the foresight to tuck his head in and rolled with the bike.   I thought for sure he would be injured but he sprang up faster than I could believe with a smile on his face and seemed un-phased.  Just watching him sent my adrenaline through the roof.  I ran down and helped him to get the bike which was in fine working condition and got heading back on the trail.  That first 0.1 miles took us 15 minutes which did help me out as I was worried about going too fast the first 10-20 miles.
The first 12 miles of the trail on day one were all on single track and had a few technical uphill sections.  As I had a gps app on my phone I ran at the lead and had to check the phone 3-4 times that we were on the right trail as the first 12 had the poorest markings for following the Kokopelli trail with mutliple other biking loops being in the same area.   After the singletrack section we popped out onto a dirt road and followed it to our first Water Drop at Fisher Valley.   I didn't see the rest but Señor took a number of other falls before hitting the dirt road and Drew talked him into turning back and taking the Interstate back to the car as there wouldn't be another tap out spot if he continued on.   
The rest of the day was fairly uneventful.   We made it to the Westwater Ranger station and were able to get a camping spot, making camp at around 6pm.  Our mileage for day one was about 44 miles and we were greeted with a great sunset.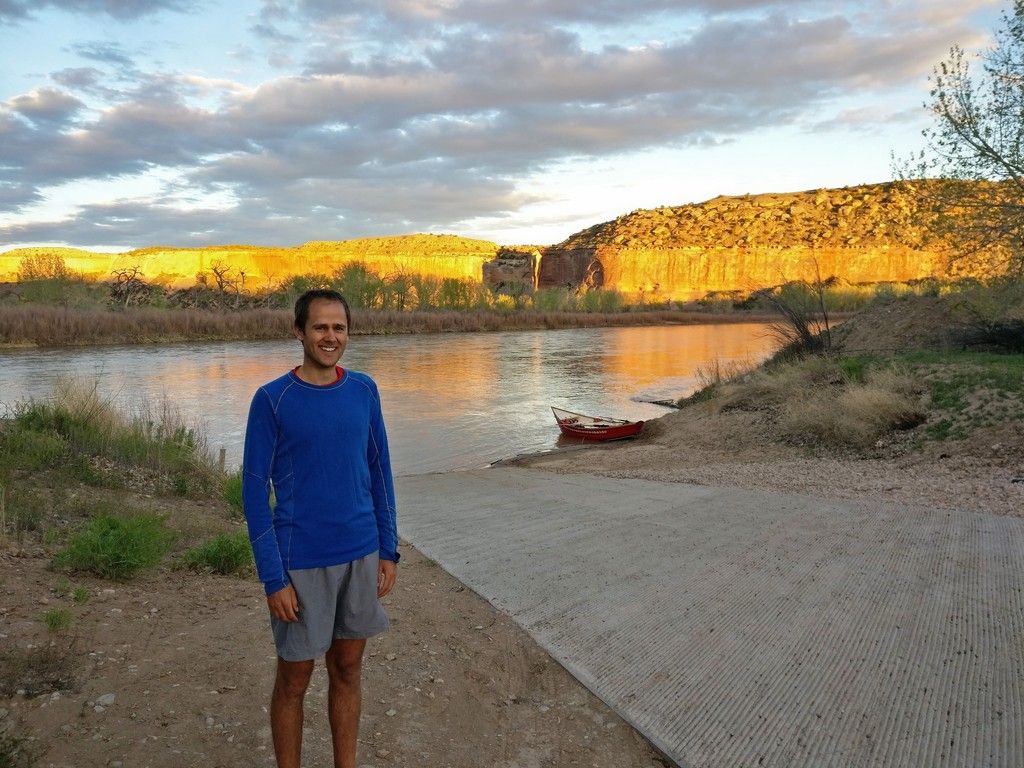 Day 2- The Mule
Day two was the day I was most worried about.   I have run 50ish miles before but I had never tried waking up the next morning and doing it all over again.  Oddly when I woke up the next morning I felt pretty decent energy wise and though I was a little sore, after getting up and walking around I felt pretty decent.   The one complaint I did have was just how loud the campground had been.   I don't think I have ever been woken up more by wildlife,  we were woken up by sheep bawing close to the tent, wild turkeys in the field nearby as well as Geese flying overhead during the night on multiple occasions.
It was just below freezing when we woke up which made getting out of bed, eating breakfast and taking down camp take a little longer and put us back out on the trail at about 8am.  In hindsight we should have got a little bit earlier of a start as it got well into the 70s that day without any of the cloud cover from the day before which made for some hot running for me.   When looking at the maps we had forgotten how far it was going to be to our first water drop and that we would be pumping water out of the Colorado once before making it to the drop which wasn't until about mile 38 for the day.   The first part of the day we passed through some desolate country.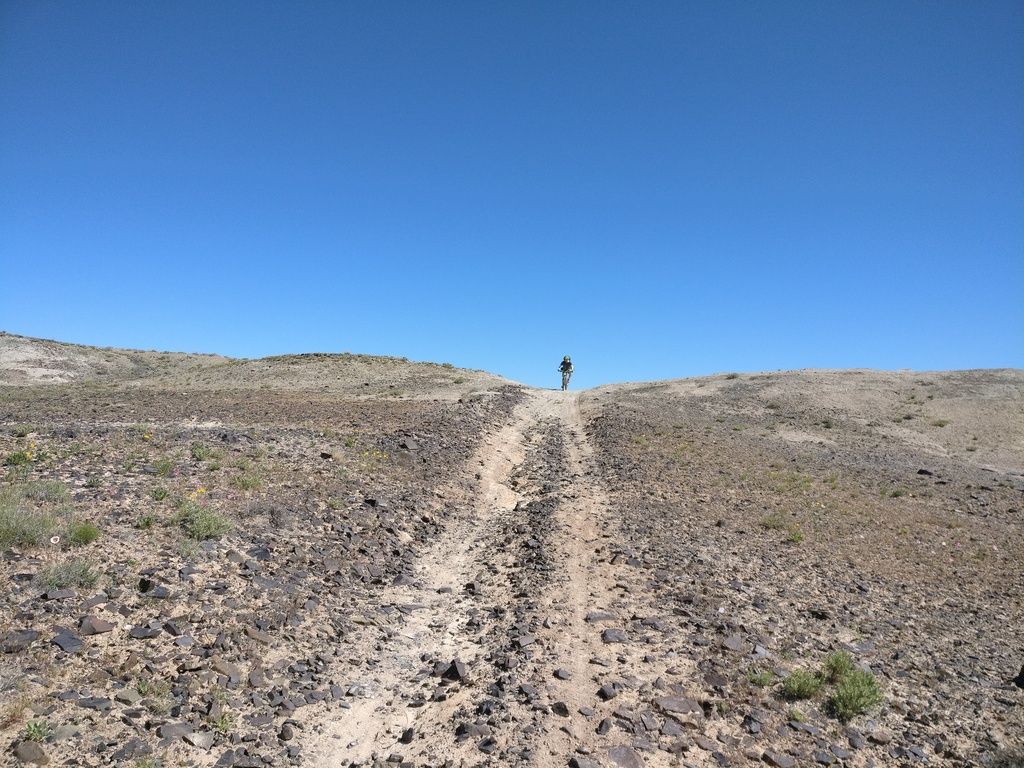 We planned on meeting Señor at Dewey Bridge that day which is where we ran into some logistical difficulties.  He didn't have a map of the trail as he was going to ride it with us and we had a paper and electronic map but didn't have a third map.   Drew who had come up with his own trail name of "Mule" had taken any supplies that we were going to need from Señor the day before but Señor tried to be helpful as he got to our water cache at Dewey Bridge Early and drove back to where he thought we would be.  In the meantime we had decided to cut off a section of the trail and use a road as I was running very hot and had drank half the water I had pumped from the Colorado in only around 6 miles and our water drop was another 15 miles if we continued on the regular route.   When we ended up getting to Dewey Bridge to our surprise water cache was gone.  I was a bit dumbfounded that someone would take the water as it was all labeled as a water cache not knowing Señor had taken it.  It didn't put us in too bad of a bind as we had a water filter and Dewey Bridge is right on the Colorado. It did however take a good half hour to fill up both of our hydration bladders as I only brought a Sawyer mini not planning to pump but the once.
I waited for Señor at the bridge for about 50 minutes but looking at how many miles were ahead of me for the day and thinking that the Mule could easily catch up with me I left at about 2:20 to head towards camp for the second night as I wanted to finish with time to have super before going to bed.  The Mule waited approximately another hour for Señor before heading out on the last 18 miles of the day without seeing him.   When I headed out a group of bikers who had heard our water had been taken gave us some water bottles so I headed out with about 3 Liters for the last 18 miles thinking that the Mule would catch me in a couple hours.  The last 18 of the day had a lot of climbing (2500ft) and technical, slow rocky descents which had me finishing around 6 pm well over an hour before the Mule would finish.
The Mule had been smiles all trip and definitely not working as hard as I had been running but after going through what is nicknamed the Rose Garden by bikers he looked completely done for the day and told me that if I decided not to finish down the more technical single track of the Whole Enchilada Trail the last day that he was ok with that.  I could tell he must be wiped out as the Whole Enchilada was one of the things he was most looking forward to as a good technical downhill is what gets him out of bed in the morning.
The Navigator and Day 3
About a week before heading on the trip a bit worried that we wouldn't have any aid or tap out spots if someone (namely myself) got too tired/sore/injured etc to finish and also thinking that the Mule might like to ride his favorite trail on the last day I asked Jason Edwards (The Navigator) along with his girlfriend and my sister in law Jana to come down.  The Navigator is one of those guys you can point to a place on a map give him a time to be there and he will figure out how to get there and can be counted on to be there most likely early.  He had also recently run his first 50 miler so I thought it would be nice to have someone along to try and help keep me going if moral and energy tanked on the last day.
Jana and the Navigator met us at the end of day 2 and brought a grill, real food and a vehicle so that the Mule could dump our camping gear for the last day.   As such it made the last evening something I had been looking forward to.  I don't know about you but after a 100 miles of running during the weekend I can really sit down and enjoy a good brat.
Oddly the third morning I was once again the first one to pop out of bed and have all of my camping gear packed.   Seeing that everyone was still in their bed and needed a little picker upper I even played my alarm for them ( https://www.youtube.com/watch?v=-59jGD4WrmE only the first half of the song as the rest gets a bit weird).  We once again got on the trail at about 8 am after taking down camp with Jana driving the Navigator's vehicle to Rock Castle with the rest of us heading out on foot and bike to the first water drop of the day.
I felt pretty good starting the third day off but was a bit worried as the weather report had called for a high in the mid 80s for the day.   The morning was cool and by the time it warmed up we had climbed up to 8500ft escaping some of the heat and getting some wind and cloud cover to keep the day more around the 70s. Without the weight in the pack Drew was feeling a lot more like himself and less like a Mule.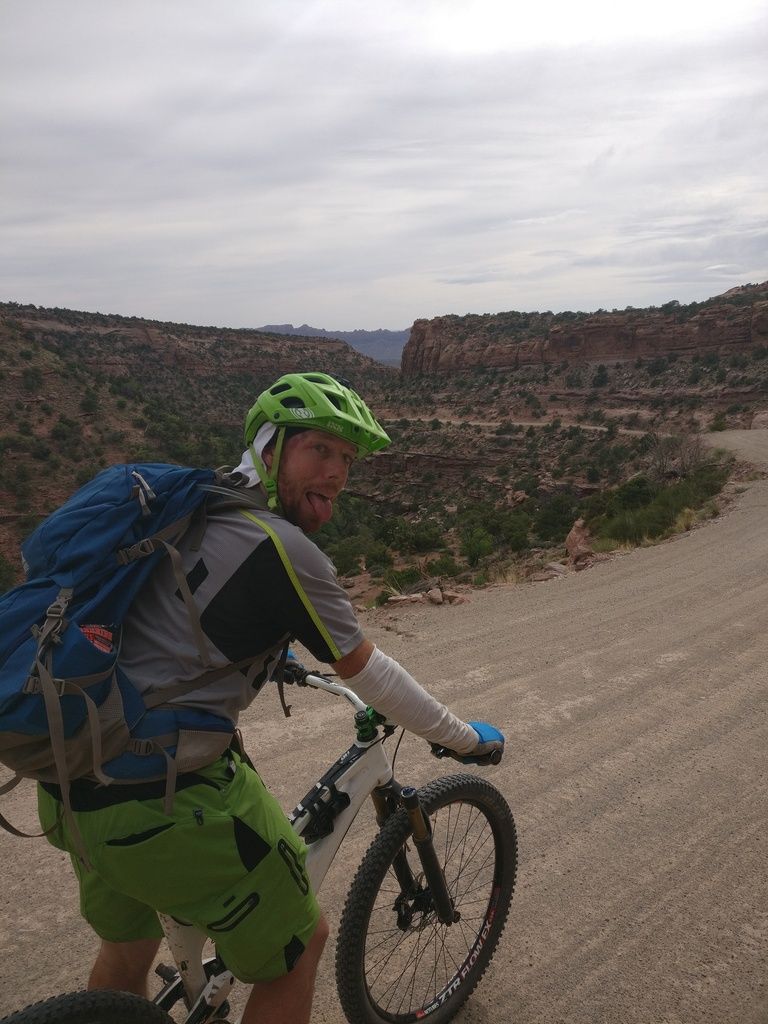 We finally caught back up with Drew's Dad on the third day with him meeting us about 15 miles into our run.   He rode with us for a couple of miles to where he had parked his car and for the first time during the trip I was able to take my pack off and run.  It felt envigorating.   Drew had carried most of the supplies the entire trip but my running pack was still 10 pounds as I carried a Spot Tracker, Granola Bars, Water, Tailwind, Water pump, TP, sleeping pad and phone which was my GPS Mapping device.    I had debated calling it a day at our water drop for the third day but after running downhill for 4 miles without my pack even clipping a couple downhill 7:20 miles (after running 120) I felt like I wanted to finish it out.
From Rock Castle a car could drive another 5 miles till the road had been taken out by snow and the elements from the previous year so I was able to get a solid 9 miles pack free,  which was nice as after dropping 2k in vert to Rock Castle you go straight back up and gain it all back in the next five miles.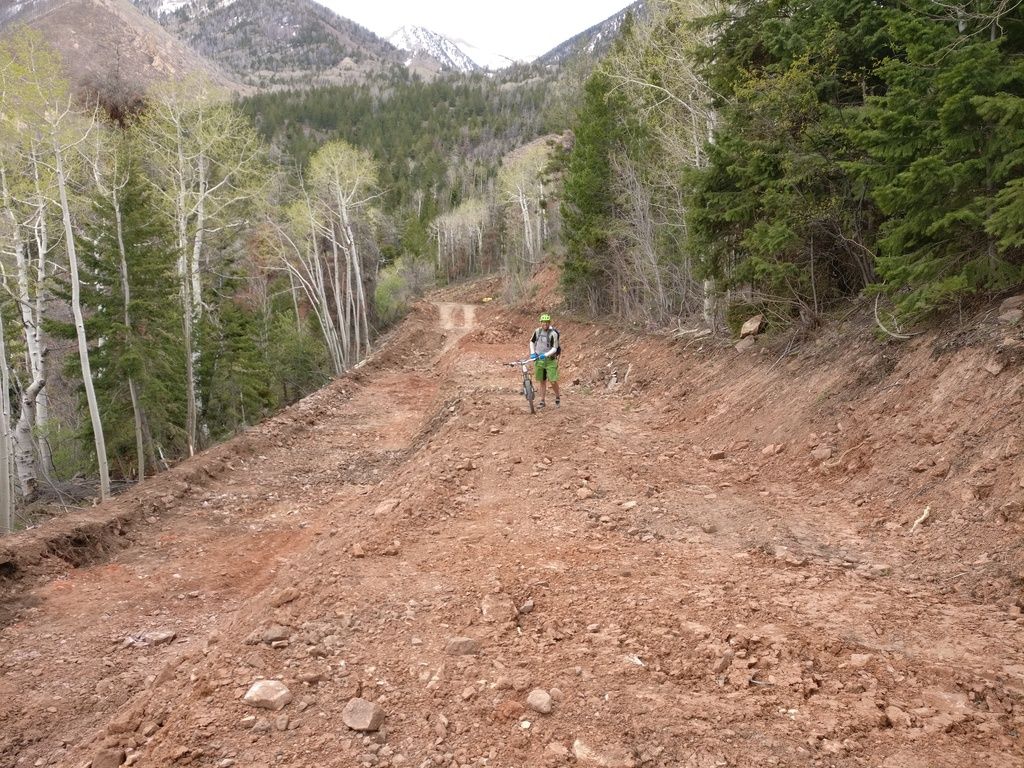 After getting back up to 8500 feet the Navigator who was feeling pretty tired after running just shy of 28 miles with us for the day tapped out and it was once again just Drew and I running the last 16 downhill miles to the slick rock Trail head.   It felt so good to finish the run.   I have included a few of the photos I took from the trip in the post but if you click the play button below you can see a lot more of the trail as I put the rest up on flickr.  
Last thought- The Stars don't always align
What are you still reading for?  Well since your still here I did have one last thought.  This trip took a while to plan but not everything aligned to make it turn out even though it did.   About six weeks before the trip I started having knee pain and had to cross train and cut my training back some for a couple weeks.  Four weeks before the trip I sprained my ankle for the first time in years and had to spend time on the eliptical and bike trainer as it was easy to roll again for weeks afterwards.   The Sunday before the trip I came down sick with a stomach bug and had diarrhea.  The Monday before I was recovering so didn't run, the Tuesday before I ran and felt my energy was back but the stomach was still tender, the Wednesday before I ran and felt golden and that Thursday I drove down to do the water drops.
Special Thanks to the Mule and the Navigator
Running the Kokopelli was a ton of fun and I have to give a shout out to Drew who hauled my gear for 120 miles with a smile on his face.  Well he might not have smiled while going through the Rose Garden but I wasn't with him during that section.   Also having Jason and Jana as a support vehicle for the last night cut on how much stuff we had to pack and helped mitigate some of the risks as you don't always know how you will handle something for the first time.