The Uinta Highline trail- running above the trees
 Sometimes you hear about a trail and can't get it out of your mind as it captures your imagination,  the Highline trail is one of those trails.   The trail is over 100 miles long with the main section that people run or backpack being 80 miles long with an average elevation of just over eleven thousand feet.   With only one intersecting road just 17 miles into the trail the majority of the trail lies within the High Uintas Wilderness and has you going through remote valleys where you are usually 12-15 miles from any trail-head.  The Uintas Wilderness has roughly a thousand high alpine lakes and provides picturesque views of many of them from one of the 7ish passes that you go over as well as passing next to many of them.   Except for when going over one of the many 12 thousand foot passes you are never far from water with all of the creeks, rivers, marshes and high alpine lakes found along the path of the trail and across the Uintas Wilderness.

Last fall after reading a few reports about the trail including the previous FKT holders trip report (Chad Brackelsberg), I started planning a trip.   At the time I had never finished an Ultra Marathon though I was familiar with the Uintas Wilderness and had gone on a 44 mile run I like to call the Ogden Superloop linking up the Bonneville Shoreline trail with some of the Snowbasin trails and the Skyline trail of Ogden Valley to make a loop course with only two miles of pavement.   I signed up for my first 50 miler in the spring and tried to see if any of my current running friends would be interested in doing the Highline trail but most of them seemed to look a bit glossy in the eyes when I mentioned wanting to run that far on a trail through the wilderness.
While completing my first 50 Miler late this spring I ended up running 30 miles of the race with Travis Morrison, swapping life and running stories while we ran together for 50 miles helping each other stay on course during the "Behind the Rocks 50 Miler" in Moab, UT.   After the race we met up a couple times to run some of the trails in SLC and I told Travis about my desire/plans to run the Highline and I invited him along and so we picked out a time where we could go and started planning the trip.
Gear and Support
For such a long run the amount of Gear we took was very minimal.   Below is a list of all of the gear used/brought on the run.
Hydration Pack with a 1.5 Liter blatter and about 3 Litter gear capacity.
Rain Jacket - La Sportiva Hail Jacket that I purchased
Merino Wool Long Sleeve - I had an ultra light down jacket but opted for merino wool as my main concern was getting wet and cold
Delorme Satellite tracking device - borrowed from a friend
Cell Phone - I used Backcountry Pro Topo maps which saved our bacon when the trail repeatedly disappeared
USB Battery Pack- Travis also had a cell phone but I didn't want to have the battery die on our main GPS device
90 Lumen Head Lamp w/extra batteries-  I should have bought a brighter head lamp as every lumen counts when spotting cairns in the night
4500 Calories- I brought Hammer Gels, Hammer Perpetuam, Gu Gels, Potato Chips, Cliff Bars, Jelly Belly running beans and jerky
Sawyer Mini Water filter- used to filter water along the way
Minimal First Aid Kit - Athletic tape, a few band aids, emergency blanket, water purifying tablets and a couple ointments
Paper Map
Fire Kit - Lighter and a trioxane fuel bar as most everything is very damp in the Uinta Mountains
Garmin fenix 3 watch
Shirt, shorts and the La Sportiva Mutants that I wore from start to finish
As for support my wife and kids drove Travis and I up to the trailhead Friday night and saw us off in the morning and Travis's girlfriend camped at the finishing trailhead Saturday night so we would have a ride home, but after we left the trailhead we were basically on our own.
The Run and subsequent Hike
The morning of July 23rd when we woke up it was cool with fairly clear skies.  It had rained the night before but looked pretty clear.  We both had ate a few calories and got started on the trail at 6:25 from the trailhead near Leidy Peak.   The first 20ish miles of the trail are outside of the Wilderness area and are marked by what look like road markers with the number 25 written on them.  The first 20 miles of the trail are probably the least traversed which was evident as the trailhead had only one car other than ours at it even though it was a Saturday and a state holiday.   The Picture below was taken about 7 miles into the run and shows one of the larger cairns that marked the trail.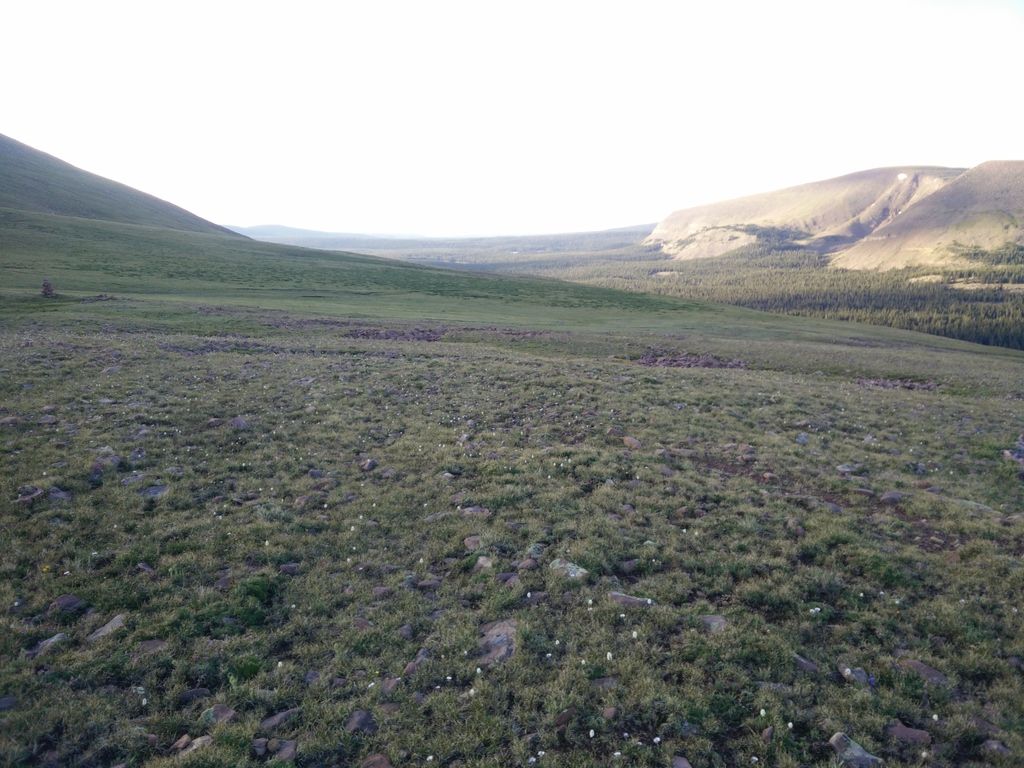 A couple hours into the run we came around a tree and spooked a heard of about 40 elk.  It made me stop in my tracks as one of them which had been bedded down was only about 10-15 feet away when we rounded the tree.  For a split second I thought if I sprinted I could probably touch it.  They quickly ran towards the horizon at full speed flicking up snow as they sprinted away.   We spotted another heard of Elk another 8 miles down the trail, this time much further off.   
The first 40 miles passed pretty quickly without any real issues and both of us feeling pretty good.  There were enough water sources that we didn't really need to plan where to fill up but filled our water whenever we ran out, taking the time to send a message using the Delorme letting family know that we were doing well and giving our coordinates each time we stopped for water.  It wasn't until Anderson Pass just below Kings Peak that we ran into any difficulties.   Hiking up Anderson Pass Travis started feeling very fatigued and a bit sick to the stomach.  
We slowed way down on the hike up and stopped for the first time to sit and take a five minute rest before descending down the backside.  I had printed out a list of checkpoints from Chad Brackelsberg's blog with distances and times from his FKT record.  I had decided not to check it till half way through and took it out, the good news I saw was that we were roughly 2 hours up on the FKT half way through the trail but the bad news was that he had the distance recorded to the pass at 39.5 miles with my Garmin showing closer to 47 miles.   I am not sure what the problem with the watch was but it was over recording the distance.  I had never had a problem with it but had only used its Ultratrac mode once before.  It was a bit of a morale killer to find we weren't at 47 miles and what was worse than that is subsequently I couldn't trust the distance shown in helping to approximate how much further we had to go.
We ran the downhill after Anderson Peak and Travis started feeling a lot better and made decent time until about 8pm (14 hours into the run) when my stomach went south and I started dry heaving.   The first 5 hours of the run I primarily used the Hammer Peanut butter gels along with potato chips and was feeling good but after running out of those I switched over to Hammer Perpetuem taking a couple Gu branded gels and some potato chips but mainly sticking to the Perpetuem.   Just before the sun went down I felt sick to the stomach and tried to drink plain water which also made me dry heave.  I was able to walk off the desire to throw up but couldn't get anything down for a few hours and could only get a single Jelly Belly sport bean down with a sip of water every 20-30 minutes.  Even now thinking of taking Perpetuem makes my stomach feel a bit sick.  I didn't end up filling my water for the last eleven hours of the endeavor which slowed us down to a hiking speed.   At the time that my stomach went south we were three hours up on the FKT and started loosing ground
The Highline trail has 9 passes with a couple of them being pretty minor with more of them being stacked in the later half of the run.  After my stomach went bad I constantly thought about the Dr. Pepper I had waiting for me at the finish.   During most all of the day I had been doing most of the navigating but we switched and had Travis lead at night as his head lamp was brighter.  I had the GPS app on my phone and on multiple occasions during the night and the day before when the trail disappeared and we couldn't see a cairn I would have to open the app and look to see if we were going in the right direction until we found the trail again.  I ended up with a number of scratches on my legs as we were bush whacking it numerous times when the trail became overgrown by grass and was no longer there to follow.   By far the worse time we went off trail was just below Dead Horse Pass during the night.   I had checked the map seeing the trail went around Dead Horse lake and then up the pass and followed the lake around not knowing that part way around the lake the trail left the side of the lake and headed over the pass.   We ended up having to scramble over human sized boulders and up the side of the mountain to get back to the trail easily loosing twenty minutes.  When looking up to see the trail above we could see a Mountain Goat not too far above us on the trail and we went up to the pass.  At this point we were 64 miles into the run/hike and it was a zombie walk up the pass which was about 1500 feet of climbing in just over a mile.  
During the night we had a hard time running the downhill sections as I often felt like throwing up and it was often hard to run and follow the trail in the dark.   We continued to loose time until we were only a little over an hour and a half up on the FKT with eight and a half miles to go after going over Rocky Sea Pass.  After going off course for 10 minutes or so at the top of Rocky Sea Pass the sun started to rise and we were about to see our second sunrise of the run.  Oddly even though we hadn't slept all night we both felt a little rejuvenated by seeing the sunrise and my stomach had settled a bit by hiking and eating the Jelly Bellys.  Travis wanted to see his girlfriend at the finish and be done and with the FKT slipping away we ran as much of the downhill and flat sections as possible the last eight miles.  The trail towards the end was much more follow-able but was very rocky and hard to run with scores of tripping hazards.
25 hours 29 minutes and 47 seconds after starting we finished the run.
Below is the run on Strava,  the distance as noted above is inaccurate as the watch malfunctioned but it still shows the course we took.
Special Thanks
I would like to give a big shout out to my primary Sponsor for this run.... my wife who cancelled on some of her friends to camp out with me and drop me off at the trail head as the drive from the starting to finishing trailhead is roughly four and a half hours.  Thanks again love.
I would also like to thank Greg from
Gear 30
for letting me borrow the Delorme as having a way to communicate any problems and let others know about our progress is fairly key on a trip like this so far from a trailhead and with minimal amounts of gear if something does go wrong.